Enable Inventory & Billing Feature
On the Home Screen, From BuKu Services box, click on + icon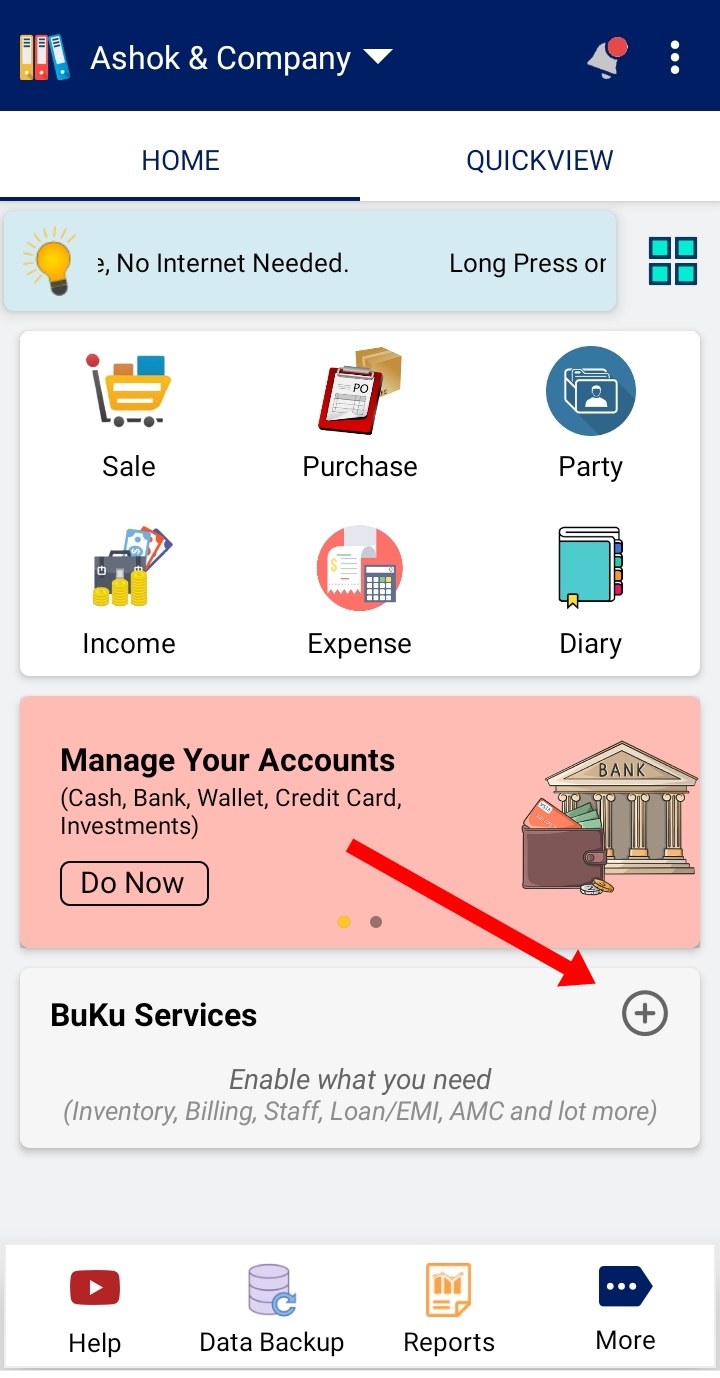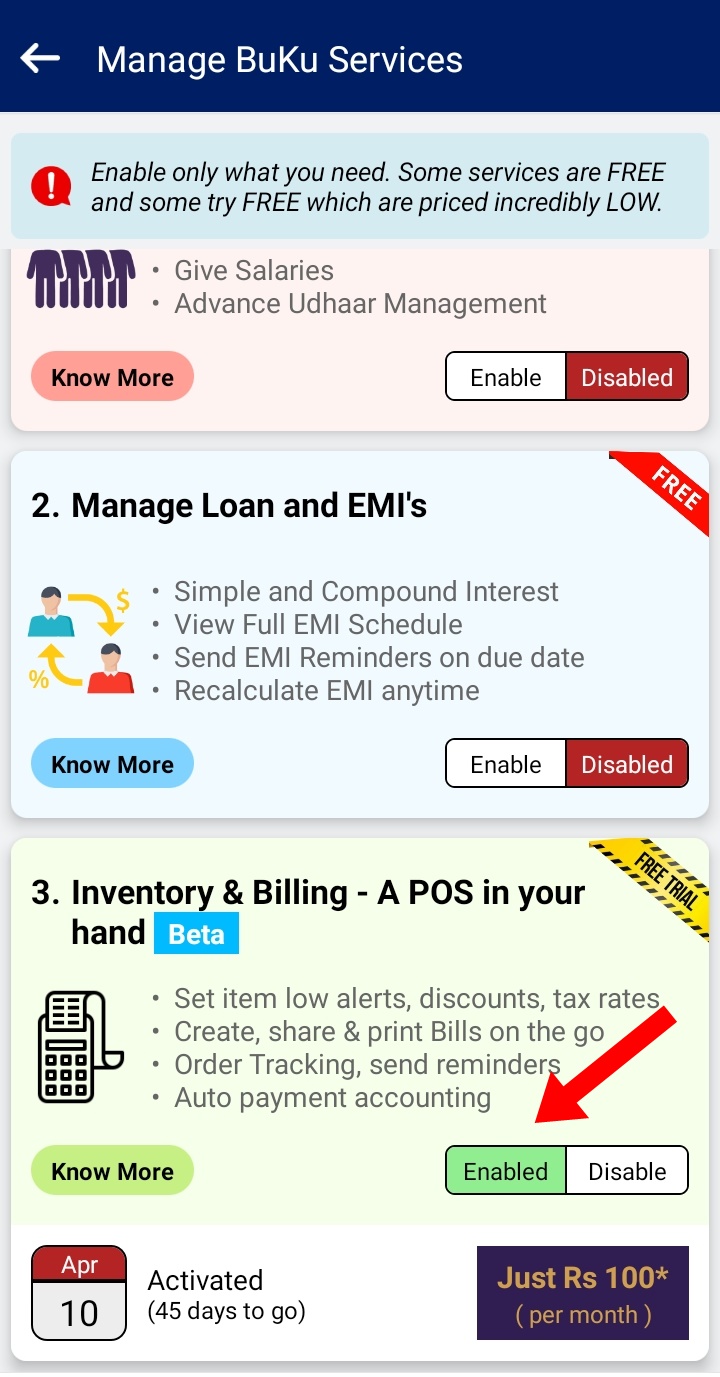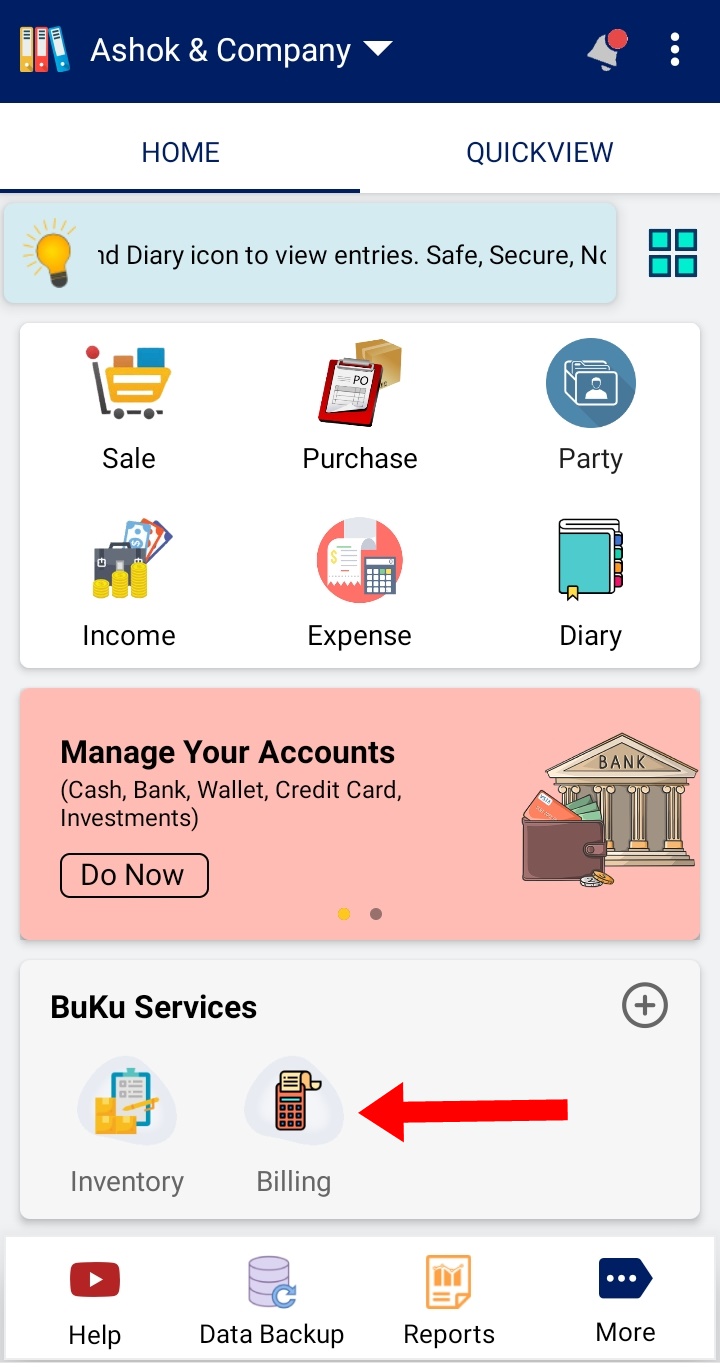 Add Item
Tap on Inventory icon on Home Screen. From here, you can add Items to your Inventory.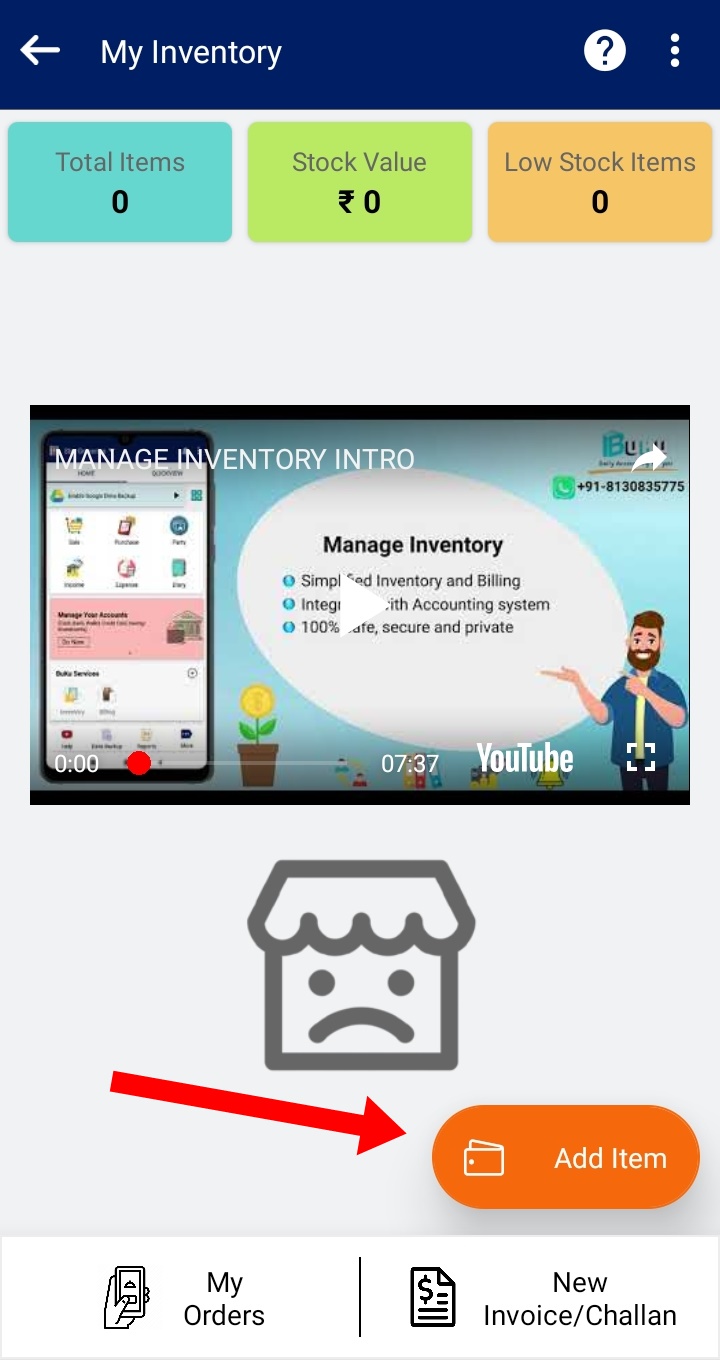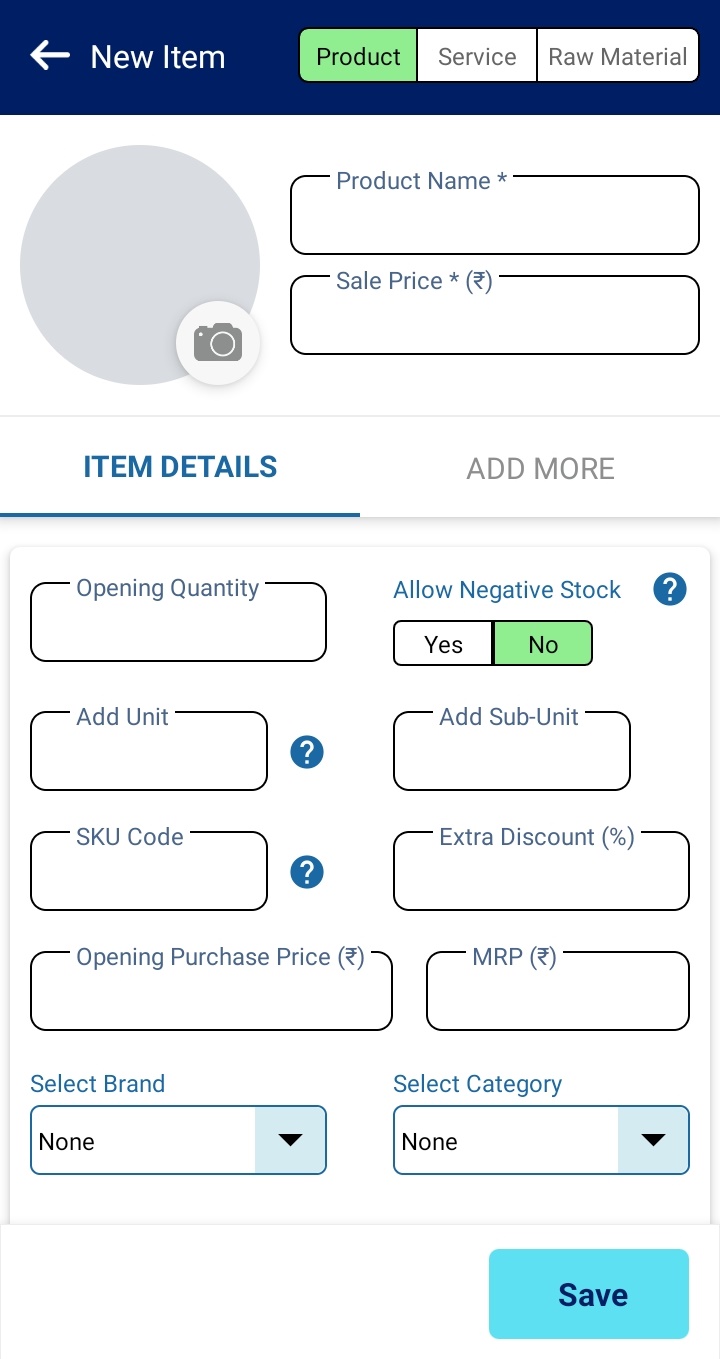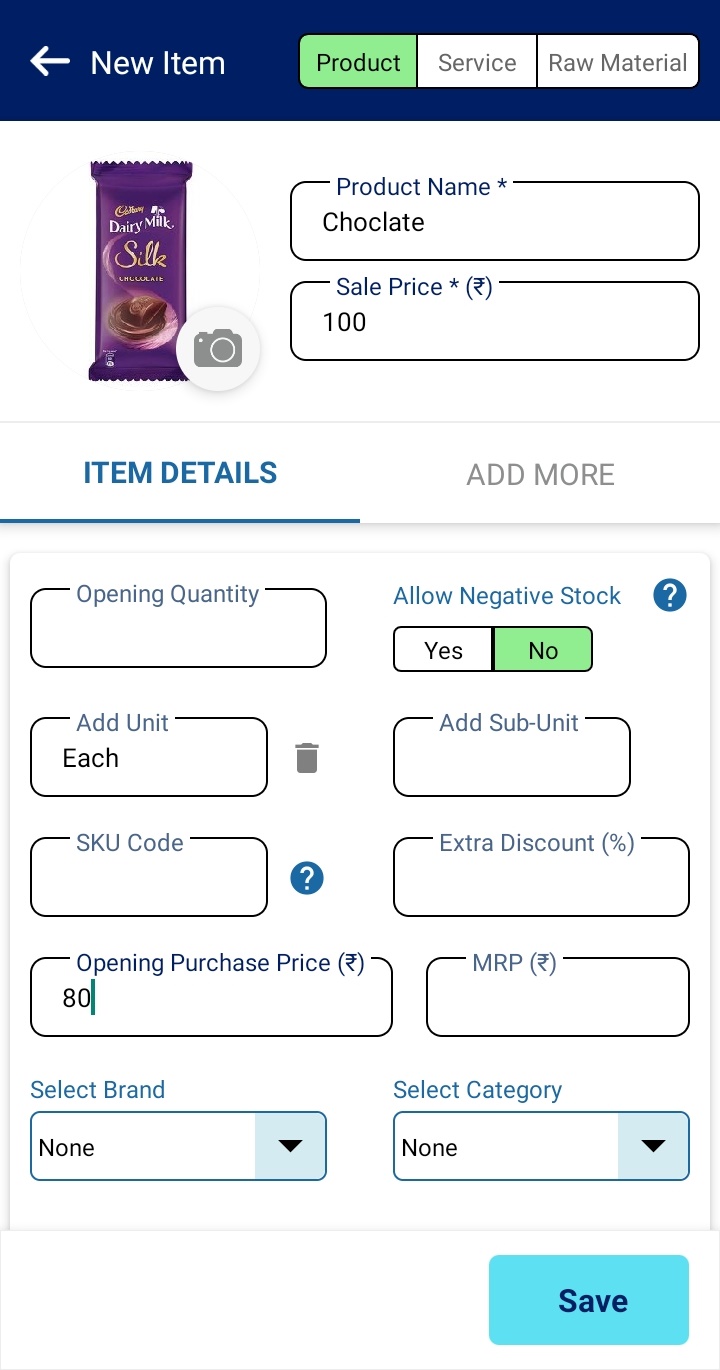 Only three fields are mandatory for adding items
- Product Name
- Product Selling Price
- In Stock Qty
You can also scan the barcode of the product (which comes pre printed on the item from manufacturer/brand).
Recommendation - You can also create your own SKU code for your items. We recommend that you assign your own SKU code ( like part numbers) for easy reference. E.g. It could be as easy as Item1, Item2, Item3 etc.
Please note - In the next App update, you will be able to generate your own barcode and print on a label printer for your own stock keeping.
You can define your own Brands, categories, Unit, Subunit for proper Item classification and book keeping.
Unit and SubUnits
Example 1 – Lets say you have an item soap which comes as Pack of 4 soaps 125g each. So the two options, you have to create this are :-

1. Unit as Pack of 4 and Subunit as 125 gm
2. Unit as Pack of 4, 125 gm each

Example 2 – Lets say you have an item Plastic Grocery Container, 23-Pieces, Red color. So the two options, you have to create this are :-

1. Unit as Pieces and SubUnit as 23
2. Unit as 23 Pieces

If you want to maintain color wise inventory then you can also do

1. Unit as Pieces and SubUnit as 23, Red
2. Unit as 23 Pieces, Red
3. Unit as 23 Pieces and SubUnit as Red color

Example 3 – Item is Amazon Brand - Vedaka Popular Whole Almonds, 200g. So, you should create this as :-

Unit as Pouch and SubUnit as 200 gm

Example 4 – Item is Dabur Honey. So the two options, you have to create this are :-

Unit as Bottle or Jar ( as you feel) and SubUnit as 1 kg

Example 5 - English Oven Burger Buns 6Pcs, 300 g

Unit as Pack and SubUnit as 6 pcs, 300g

Example 6 - iD Instant Filter Coffee Liquid | Strong | Authentic, Ready to use | 60 Cups | 600ml (150 x 4)

Unit as Pack and SubUnit as 600 ml ( 150 x 4)

Example 7 - Tide Ultra Matic Detergent Washing Powder - 2 kg + 1 kg Free = 3 kg

Unit as Bag/Pack and SubUnit as 2 kg + 1 kg Free

Example 8 - Pepsi Soft Drink, 750ml Pet Bottle

Unit a Pet Bottle, SubUnit as 750 ml

Example 9 - Xiaomi Mi 10i 5G

Unit as Each and optionally you can set SubUnit as 4 GB, 64 GB

Example 10 - Pepsi Light 330ml, Pack of 24 Cans

Unit as Pack, SubUnit as 24 Cans, 330 ml each

We recommend that you use generic Unit like Pieces and the rest of details in Sub Unit. It will be easier to manage Units and Subunits.

Add Stock of an item
After the items are created, You would want to add more quantity of the item (which you purchased/manufactured)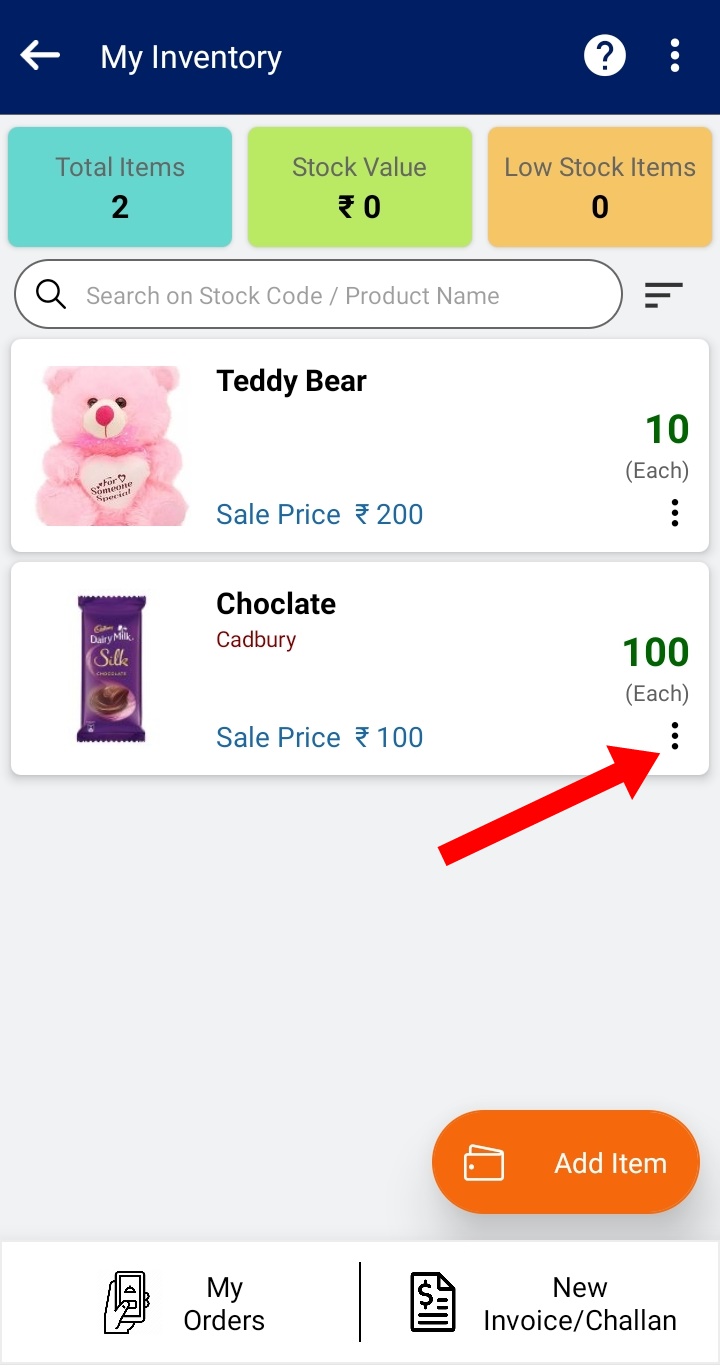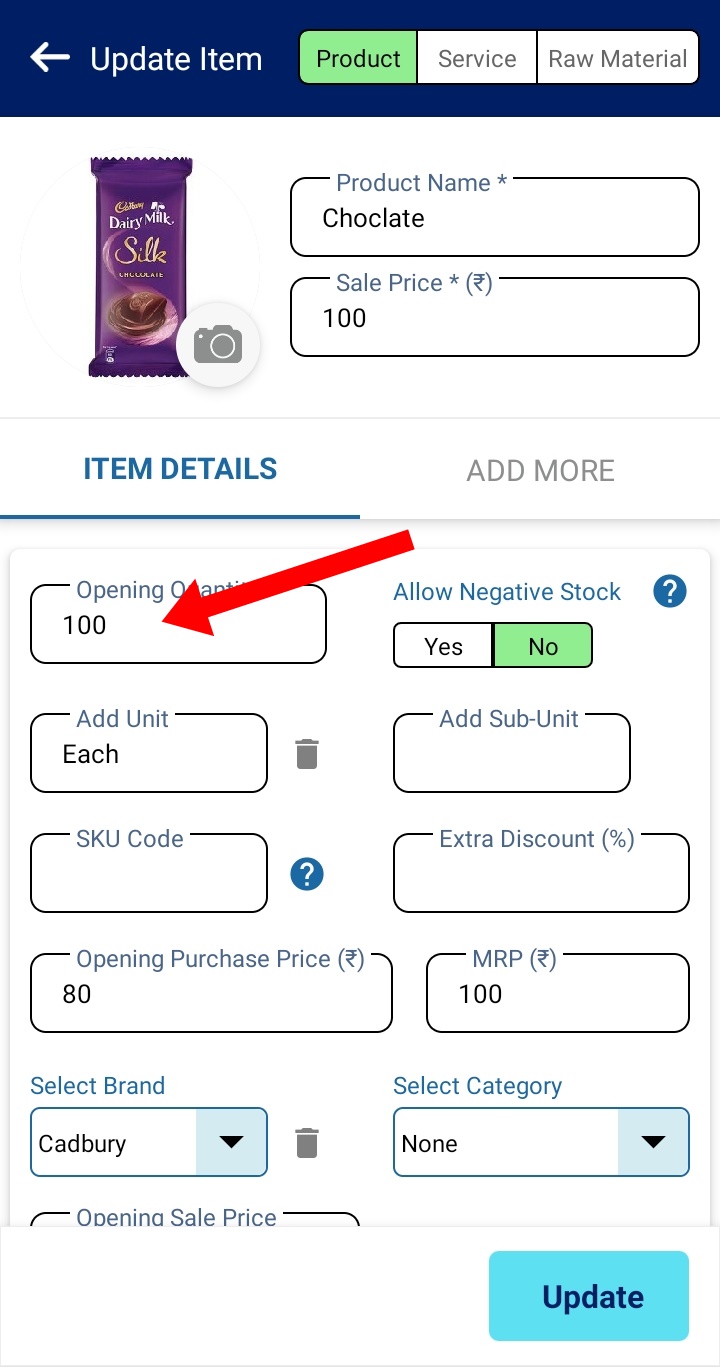 Tap on the + icon next to Item and you will see a pop up to add Purchased Item Qty. You can also set New purchasing cost and new selling price here.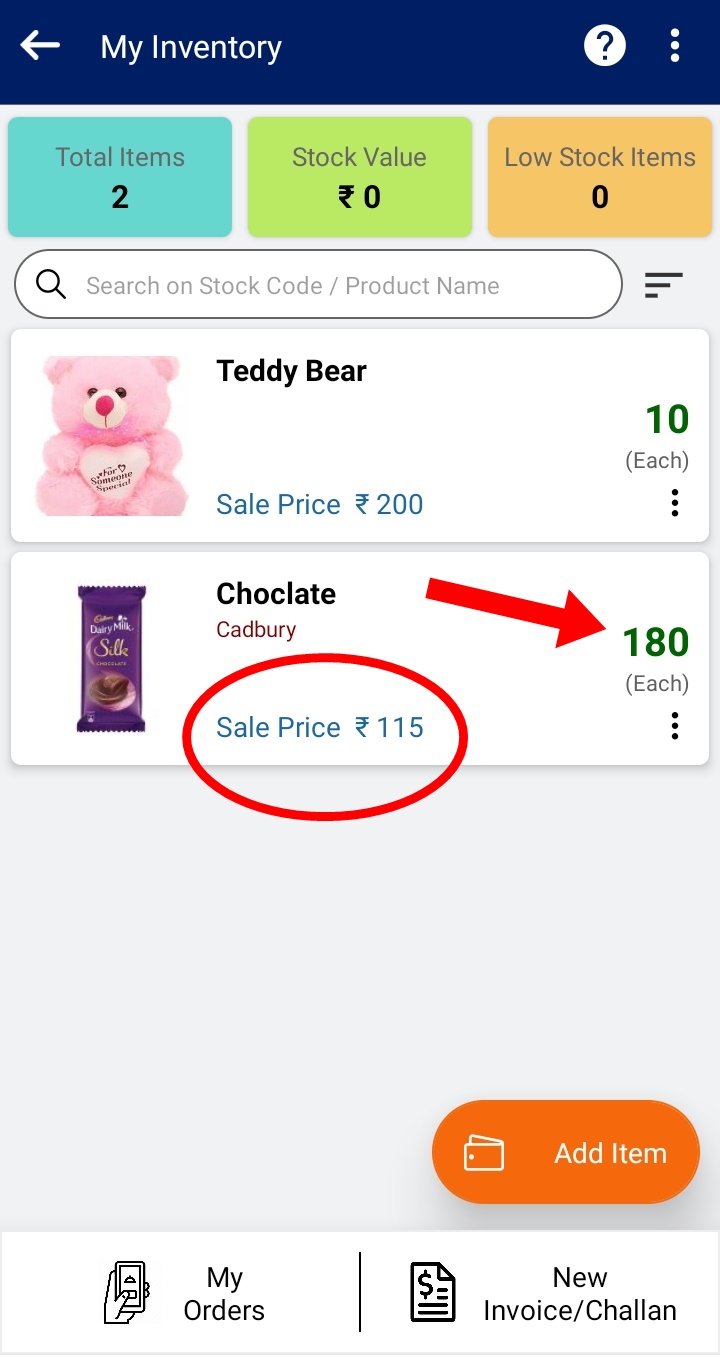 Add Purchase entry for this item or bunch of items
There are two ways of doing it.
Option 1
Since you have purchased the items, you would also want to create the Purchase entry so that you can also do the accounting. For example, you buy a certain item from Supplier XYZ and you would want to keep track of all purchases from him. It is possible that you might be purchasing on credit and pay him later. Or you have paid him some amount and rest you would pay later. All this can be managed in BuKu.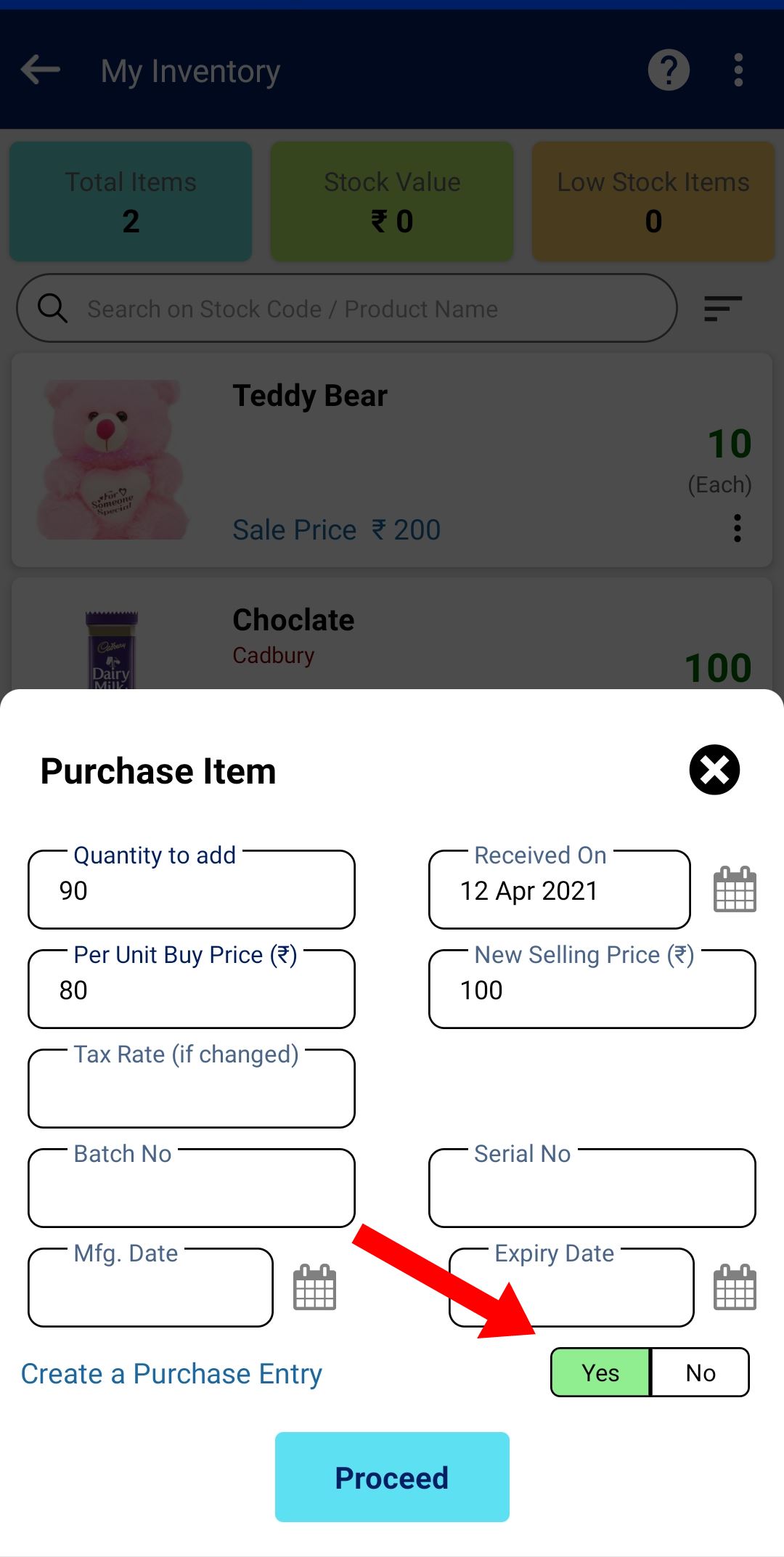 Tap on Yes button and you will see option to select Supplier and total purchase price (which is auto calculated as Qty * per unit buy price). But you can change this amount as you may have bought more items in a single purchase or there may be other expenses in the bill like shipping etc.
This place is actually just a quick shortcut to add Purchase. I will explain the proper place to manage your purchases later in this help tutorial.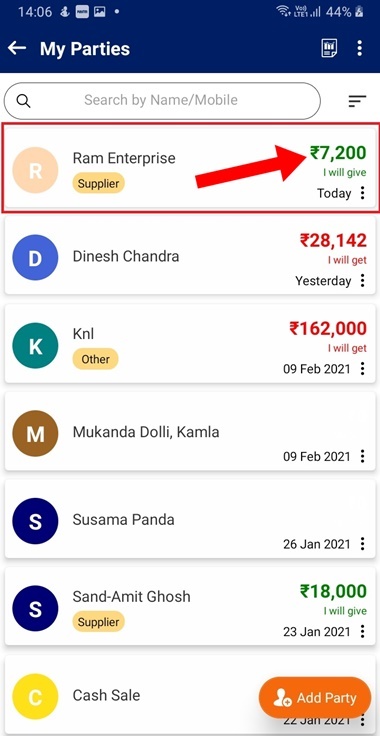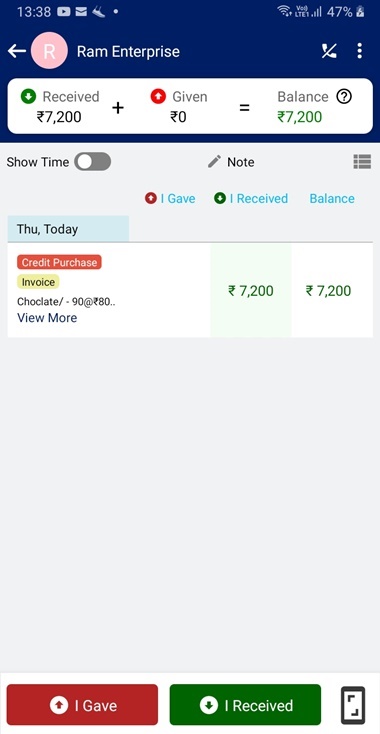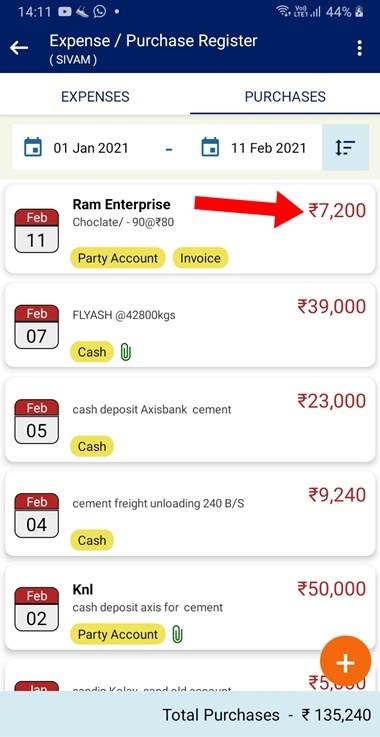 This entry is made as Credit purchase i.e. you owe your supplier Ram Enterprise Rs 7200 It is also Visible in your Purchase Listing (Home Screen -> More Button ->Expense/Purchase Register) If you have paid him this amount then you can create a I Gave ->Advance/Repayment entry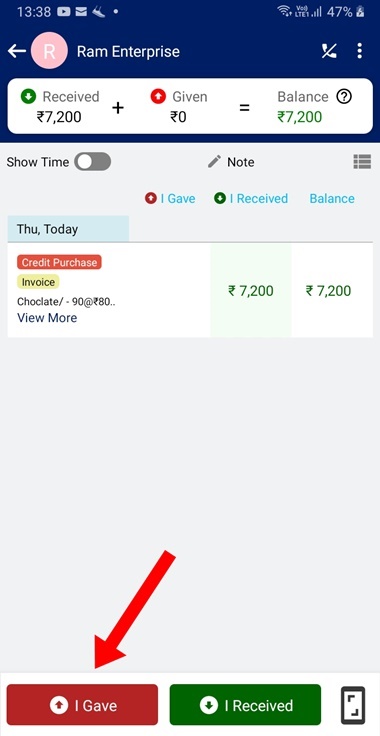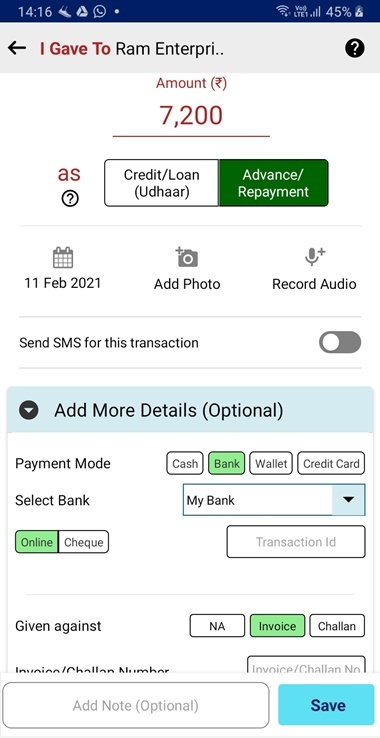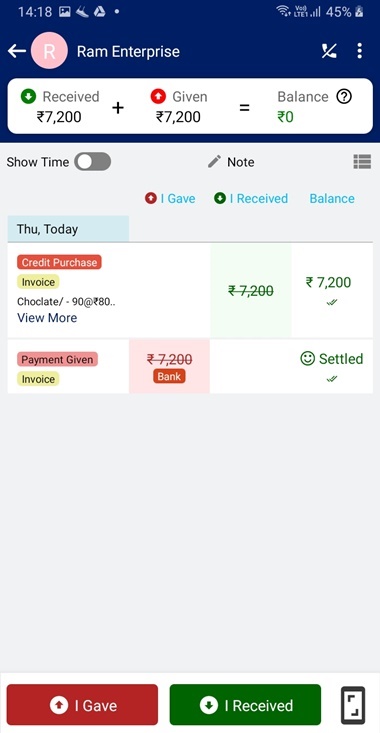 You can add Bill photo, change date, select mode of payment ( Cash/Bank/Wallet). After the entry is saved, the balance payable is 0 now.
Option 2
Go to Home screen and tap on Purchase Icon.
On this page, enter amount, attach bill photo/pdf, select supplier, mode of payment. If you have to pay later ( i.e purchased on credit) then select Party Account button.